What is OET Exam? Seven Tips to Pass the OET Exam!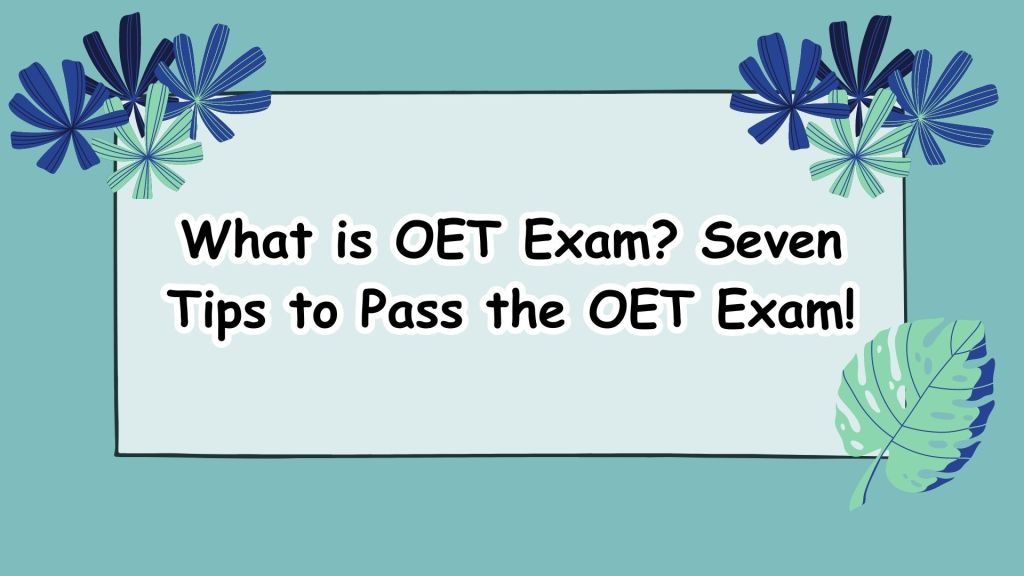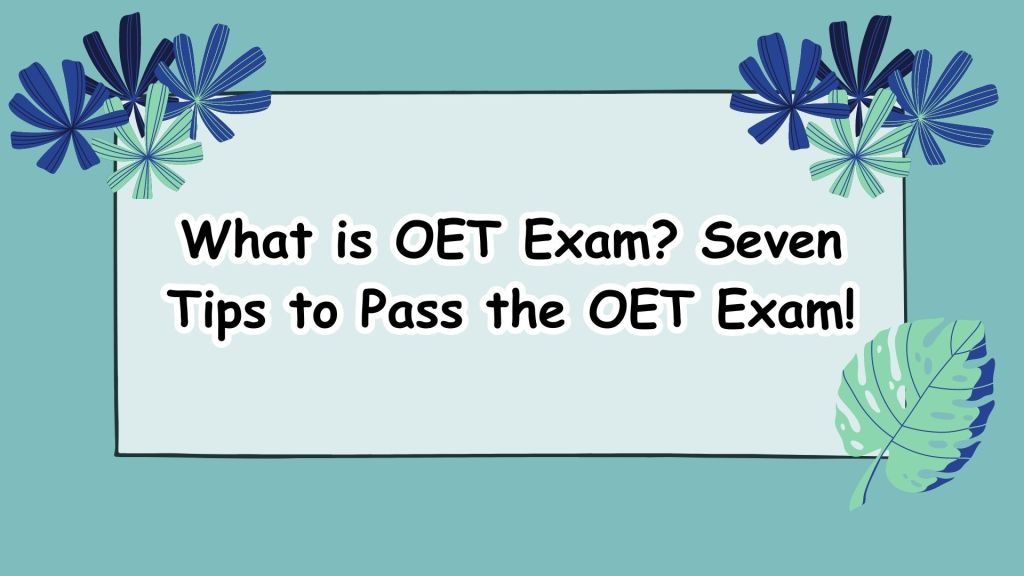 Do you not know what OET is and how to pass this exam?
Do not be worried!
In this article, we are going to take a super quick overview of the Occupational English Test (OET).
Plus, we will also provide you with proven tips and tricks to achieve perfection in this test.
So stick around this article if you are unfamiliar with OET.
Occupational English Test (OET)
The Occupational English Test (OET) is a language proficiency test designed for healthcare professionals who want to practice in an English-speaking country.
The OET exam is categorized into these eight sub-tests:
Writing
Reading A
Reading B
Reading C
Listening A
Listening B
Listening C
Speaking
This is how this text is divided.
Now, we are going to discuss each category step by step.
· Writing
The very first subtest is writing. It is the most challenging test.
In fact, many people fail in this test. Therefore, you should be fully aware of what this test is and how it works.
In this sub-test, you will have five minutes of reading time and forty minutes of writing time.
You are not allowed to use a pencil or pen during this reading time. At this stage, you should make a plan in your head.
There are multiple case notes in this writing test. These case notes are specified to the profession.
Accordingly, dentists get dentistry case notes; doctors get medical case notes; nurses get nursing case notes, etc.
You will find a specific writing task at the bottom of the case notes.
This writing is a type of particular essay. So you need to be very clear about writing an essay.
You are not allowed to go off the topic. If you practice this, you will surely lose marks.
· Reading A
You will get fifteen minutes in this sub-test. It means that it is a quick part of the text. It contains 20 questions.
They all are about a single topic.
· Reading B & C
These two subcategories of OET are usually done together. Once you have done the Reading A test, you will be given Reading B & C.
You will get 45 minutes to complete both tests. Thus, you need to manage your time properly before going for these two tests.
These are some multiple-choice questions in these tests. Also, you will get 6 texts in the Reading B test.
· Listening A, B, and C
Let's move towards the listening section out there. Here, you do not need to panic about the time.
These listening tests are timed as per the length of the audio.
So you should not worry about managing your own time. Just manage your own way through each of these categories of the OET.
· Speaking
Lastly, you will have to appear in the speaking test. In this test, you will get two five-minutes role plays.
Remember, this is not an English-speaking test. Not at all!
Instead, it is a clinical situation-based speaking test where you speak to a patient.
Tips to pass the OET exam
Sure, here are some tips to help you pass the OET exam:
1. Understand the format of the exam
Before taking the exam, it is important to understand the format of the exam and the types of questions asked.
Make sure you are well-familiarized with the content of each section of the exam.
The above-mentioned section will help you familiarize yourself with this test format.
After understanding the test format, you need to move to the next step.
2. Practice your language skills
The OET exam measures your proficiency in the English language. Therefore, it is important to practice your language skills regularly.
Try to read, write, speak, and listen to English as much as possible.
Take practice tests, study grammar and vocabulary, and listen to English audio or watch English videos.
This will help you get used to the test format and build your confidence.
You can ask your friend for help in this regard.
However, hiring an experienced mentor here who can help you streamline the entire test would be best.
3. Improve your vocabulary
Having a broad vocabulary is important in order to understand and communicate effectively in English.
Try to learn new words and phrases each day.
Having a good set of vocabulary will give you a helping hand in passing the OET test. So, you need to practice this step religiously.
You can use an online dictionary in this regard.
4. Learn how to write engaging yet readable content
Now is the time to master the art of writing easy-to-read sentences.
Your written content should be easy to read and understand. It should help readers comprehend the context clearly.
Avoid using complex words and phrases in your text because these things can increase the complexity of the text.
Learn how to simplify complicated text. How?
This is where paraphrasetool.ai can fix your problem.
Based on Artificial Intelligence, this tool identifies all hard-to-read words, phrases, and clichés from the text and replaces them on the spot.
It then replaces complicated words with simple synonyms. As a result, the paraphrased text is simple and easy to read.
Additionally, this online paraphrasing tool also breaks down long sentences into short and sweet sentences.
Just visit this online tool and paste your text into its input section.
Press the "Paraphrase" button. Paraphrasetool.ai will create a different version of the text without changing the true meaning of the text.
Accordingly, you can learn the art of simplifying complex text with this tool and maximize the readability of the text.
5. Focus on your weaknesses
Identify your weaknesses in English and focus on improving those areas.
For example, if you struggle with pronunciation, practice speaking English with a native speaker or listen to English audio and try to copy the speaker's pronunciation.
This will help you excel in this stage.
6. Practice time management
This is probably the most crucial step that needs to be practiced at any cost. Time management is an important skill for the OET exam.
Practice answering questions within the exam's time constraints, so you can manage your time effectively on test day.
7. Stay calm & focused
Exam anxiety can be a major roadblock to success.
Practice calming techniques, such as deep breathing, and focus on the task rather than your fears or concerns.
Conclusion
Remember that passing the OET takes time and effort.
Be patient with yourself and stay motivated. We hope this article will help you develop your OET exam roadmap.
If you practice the above-mentioned tips and tricks, you will be on your way to success.
 Best of luck with your OET test!