OET Writing mock test 1 – Updated
OET Writing sample test 1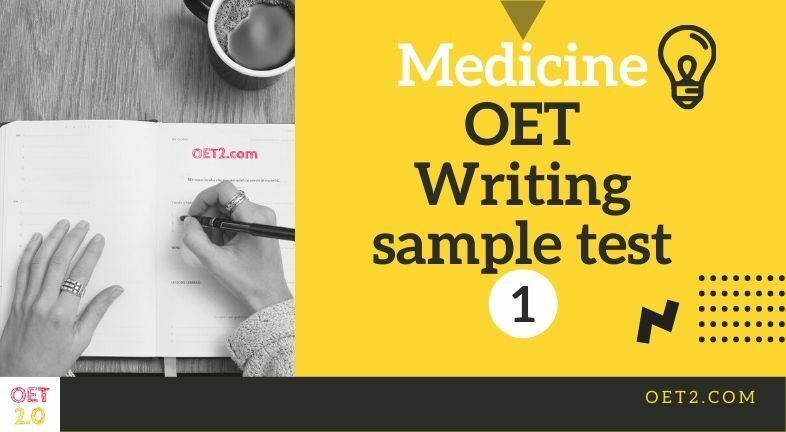 Welcome to a new OET writing sample test 1 for doctors from OET2.com.
You will have 5 minutes to read the letter and 40 minutes to write your answer.
We do not guarantee a free correction of letter, but we will do our best to evaluate it.
Please wait for few seconds after stating the test for the file to be uploaded
Tips to write a band A OET writing Letter
How to write the Introduction of the OET Letter?
Date & Address
The position of the date can be either above the address or below the address. It is normal to leave a blank line space between the date and address. (But don't write both above and below.)

Date (this position is acceptable)
Name of person or Doctor
Address
Address
Date (this position is also acceptable)
In formal letters, it is normal for the date at the start to be written in full form e.g. 3rd February 2018 rather than 02/02/18. [Numbers and slashes is fine within the body of the letter]
The test materials are specifically written for the test date each month so the date to use is also the same date as the test. The test date will also be the date of discharge, most recent consultation etc. within the case notes.
If you make a mistake in the test and write a different date or use numbers not words, DO NOT PANIC, this cannot fail you. The assessors are looking for your understanding of letter writing convention in English. It is much more important that a date is on the letter than that the date you used is correct.
Salutation
Use shorter for recipient's name as full name is clearly stated above address. This can be followed by a comma.
Dear Ms. Robert,
Subject
The subject is a place where information such as the name & D.O.B of the patient can be included. This can save you words in the body of the letter, but be careful not include too much information here. Use proper punctuation.
Re: Margret Milton, D.O.B. 07/09/2000
Re: Margret Milton, aged 17
Re: Margret Milton,
D.O.B. 07/09/2000
So this is a complete example of the Introduction part of the letter:
Dr M Jones
Psychiatrist
23 Sandy Road
South Seatown
27/03/2021
Dear Dr. Jones,
Re: Mrs. Katherine Walter
DOB: 26/11/1975
OET Letter correction service